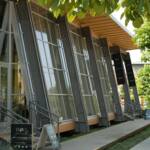 Copyright 2016, Franklin Architecture PLLC.  All Rights Reserved.

  click for enlarged images

Presentation centers for residential developments typically have a very short lifespan.  The modular nature of this project will allow it to serve for a much longer period of time.  The building is designed to separate at three integrated joints, breaking into four separate modules capable of being transported along surface streets.  Once at a new site, the modules may be reconnected, and the building may resume functioning in its current capacity, or be reprogrammed for an entirely new use.

The project sits on the eastern edge of a full-block urban park, tempo-rarily gifted to the city until the site is developed to its maximum zoning potential.  As a temporary building, the structure sits lightly on the land, suspended above the gently sloping terrain atop short concrete piers.  The building edges are cantilevered, allowing the grade and vegetation to run uninterrupted beneath.

Four-sided steel frame sections, bolted together top and bottom, provide the structure for the building and span the interior gallery space.  The building envelope components are designed and built as shop-fabricated, modular assemblies.  The service functions of the pavilion are housed in a linear component facing the park.  Its softer wood materials and colors harmonize with the adjacent park and open space.

Mr. Franklin's role on this project included all phases of design and detailing, construction documen-tation, construction phase service, and project management at the Miller|Hull Partnership.

  photography:  Phil Palios





south lake union discovery center