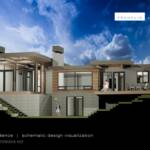 Copyright 2016, Franklin Architecture PLLC.  All Rights Reserved.

Located near Hood Canal, this gound-up renovation involved transforming an under-sized house into an updated modern residence.

The open plan concept allows spaces to flow from one to another, while the Hood Canal views are leveraged with floor-to-ceiling glass, protected by expansive cantilevered overhangs.