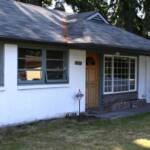 existing "before" condition

This project involved re-designing the exterior of an existing house to incorporate a new rain-screen siding system, porch structure, and updated lighting, giving the home a fresh, modern aesthetic, and adding significantly to the home's value and curb-appeal.

This project is still under construction and images of the completed project will be added soon.

Copyright 2016, Franklin Architecture PLLC.  All Rights Reserved.

  click for enlarged images