Copyright 2016, Franklin Architecture PLLC.  All Rights Reserved.

  click for enlarged images

Nestled along the steep western slope of Queen Anne, this dramatic residence leverages the topography and expansive views of Elliot Bay and Puget   Sound.

The open plan concept allows shared circulation and efficient use of space. Floor to ceiling glass and generous glass doors blur the lines between interior and exterior spaces.

The sensitive site and code constraints required strict adherence to the footprint of the previously-existing house, informing the dynamic geometry of the three-story structure.

The open spaces and spectacular views to the west are artfully blended with ample privacy from the adjacent street and  neighboring properties.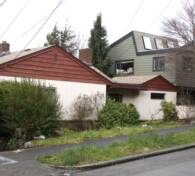 image of previously-existing home